Aupark is an exceptional shopping centre in terms of size and profile, which is why we have decided to present it to the market as a separate Sub-Fund, says Jan Kubíček, portfolio advisor at WOOD & Company.
---
Aupark is a stable investment asset, confirmed by the first results of the AUP Bratislava Sub-Fund´s performance last year. According to Jan Kubíček, portfolio advisor at WOOD & Company, who participated in the acquisition of this commercial property, it is a very good anti-inflationary product.
After the acquisition of Aupark in April last year, a new WOOD & Company Real Estate Sub-Fund for this shopping centre was created for investors. Why is it not part of the Retail Sub-Fund, which already includes Prague's Krakov and Harfa shopping centres?
This is because Aupark is an exceptional shopping centre in terms of size and profile. Given its exclusivity, we have decided to market it as a separate AUP Bratislava Sub-Fund. We also find it easier to explain its success story to investors. We offer them only one shopping centre, with an excellent location and functionality. For such a large transaction, this makes sense, and it is more transparent for investors. They know exactly what they are investing in. Last but not least, the AUP Bratislava Sub-Fund is also a different investment product in terms of the risk and return structure for investors because it also pays dividends.
What if clients wish to diversify their investments more, will they be offered other Funds?
Our clients may diversify their investments by buying shares in the Retail Sub-Fund, which includes the Krakov and Harfa shopping centres. Sometimes, however, diversification means that you don't know all the assets. In the case of the AUP Bratislava Sub-Fund, investors know exactly what they are buying. The quality of this building is so outstanding that it can have a Fund of its own.
The Retail Sub-Fund achieved a solid return of 7.4% last year. Can investors have similar expectations for the AUP Bratislava Sub-Fund?
Real estate has proved to be a resilient investment, despite the adverse situation. We have owned Aupark for almost a year. It is a stable investment asset, as confirmed by last year's results. Its yield since its inception is 5.63% for the EUR class of investment share. In addition, investors can look forward to interesting dividends.
Will this investment protect investors from rising inflation?
We have inflation clauses in our leases. Moreover, Aupark tenants' revenues have been growing faster than the average retail sales in Slovakia for a long time. Commercial real estate is, therefore, a very good anti-inflationary product.
Revenue is also affected by the right mix of fixed and turnover rents. Which of these does WOOD & Company rely on more?
We have more fixed rents because we have standard five-year leases. Thanks to this, we have a stable background of long-term tenants at Aupark. For example, during the pandemic, only 16 tenants left, out of 231, or only about 6%. Nine of these vacant spaces have been leased already. The occupancy rate is thus still well above 95%. This is proof that Aupark handled the pandemic very well.
Which of these factors – high occupancy and high proportion of fixed rents – is important for investors to consider Aupark a stable investment?
The most important aspect for investors is occupancy. The ratio of fixed to turnover rent is also important but, as we want to keep the risk lower, we prefer fixed rent. This guarantees stability for investors as well.
Stable footfall
How did Aupark perform last year, amid the anti-pandemic measures, in terms of footfall?
Once the anti-pandemic measures were eased, people returned to the shopping centre. The return brought an interesting trend: people visited shopping centres less, but they purchased more, and their shopping baskets were more full. We assume that they were shopping alone, rather than in large groups. This is also why the sales in the months without lockdowns were close to the sales in 2019, so we are optimistic.
Did footfall fluctuate from month to month?
The summer was optimistic, but then came the gloomy autumn and the footfall dropped slightly again. Still, it is clear that e-shopping has not hurt traditional retail significantly. People still prefer to shop for daily necessities, fashion and entertainment in shopping centres. Even with electronics, we have observed that, although customers order goods online, they come to the stores to pick them up.
E-shops have not replaced physical stores; instead, they complement them.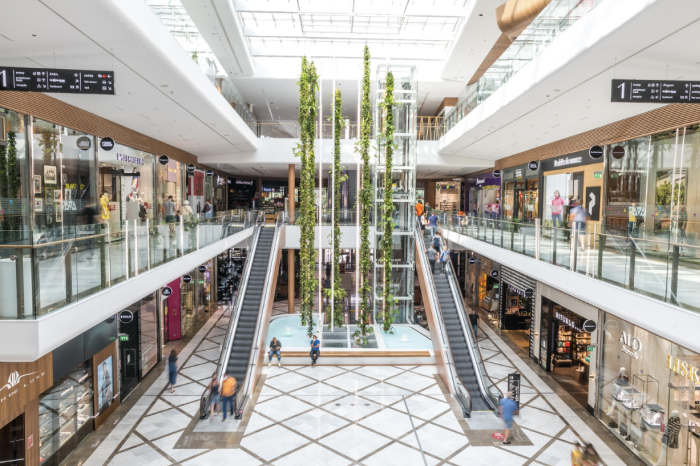 Is there a noticeable trend that some online retailers are moving to traditional physical stores or showrooms?
Yes, there is. We are seeing growing demand from e-shops for their own bricks & mortar stores. However, their problem is that they have no experience of how such a store works. Naturally, e-shops are cheap to run but, when they expand, they are cost-demanding in terms of logistics and they experience pressure on their margins. With a physical store, you have higher upfront costs at the beginning, but then you have easier logistics and guaranteed annual footfall, and even marketing is often handled by the shopping centre. You have millions of visitors every year visiting your store; if you wanted to get them to "visit" an e-shop, you would have to pay out a lot of money.
Will e-shops try out smaller areas first, in the form of kiosks in shopping centres, and move to their own premises only later?
Not all of them, but it does happen, yes. We have short-term leases of a few months for kiosks and five years for stores. Some kiosks are even rented already furnished, and they are quite popular. This kiosk concept is popular with banks, as well as coffee and telephone vendors. However, a kiosk does not create the same atmosphere as a store. The same applies to e-shops. You will never create an atmosphere there, with a pleasant aroma, for example, like in a traditional perfumery.
Aupark is often mentioned for its excellent portfolio of tenants. How can one succeed in creating such a mix of tenants?
Aupark clearly profiles itself as a centre of fashion and entertainment. This is why we have a cinema, a sauna world, and a large food court. Therefore, we plan to strengthen these segments in the future. In terms of entertainment, we want to add more leisure activities, to the saunas and the large fitness area.
Are you considering outdoor activities, such as a climbing wall?
We have been discussing this with the city administration, because we are committed to improving the connection of the shopping centre and the Janko Kráľ Park. Both sides want people to spend quality time in the park, but all options are still open.
Is the mix of tenants and customers in Aupark different from the Krakov shopping centre in Prague?
At Aupark, we have a wide mix of customers, from the local residents of Petržalka to foreign tourists, Slovaks from the surrounding area, and workers from neighbouring offices. In Krakov, customers are mainly locals from the residential area nearby. Its catchment area is one-tenth of the size of the Auparks' catchment area. While, in Kraków, the shopping centre is mostly for everyday shopping, Aupark is mainly for fashion and entertainment.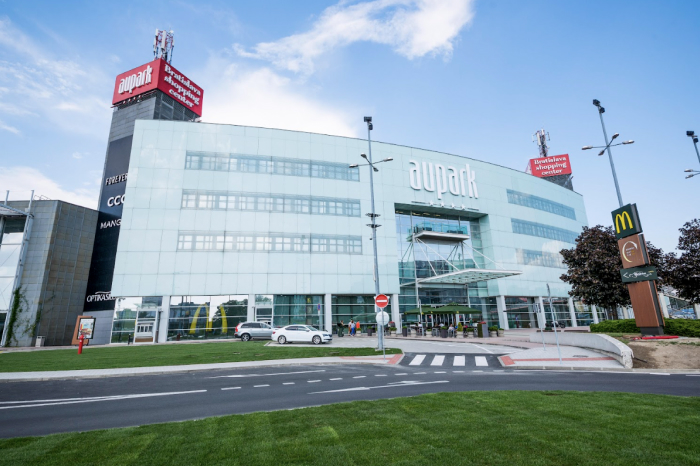 During the pandemic, significant investment was made in the building, in terms of hygiene measures and air conditioning. Will green solutions also be introduced at Aupark?
Absolutely. We own Aupark together with Unibail-Rodamco-Westfield, the original vendor and the property and leasing manager. We both care about sustainability. This is why, currently, we are installing solar panels on the roof to make it more energy self-sufficient. With the rising costs of energy, this will also be financially beneficial.
The developers' plans also include the expansion of a wider location in Petržalka, near Aupark. Is there potential for growth in footfall?
The Aupark district is one of the best places for residential living. The entire right bank of the Danube has great potential. I like the New Lido project, and Incheba also has the potential for more footfall. However, the most significant gem of this location is the Danube waterfront. The majesty of the river is unique, and cannot be compared even to the Vltava River in Prague. It is a great asset of the location.